Updated July 19 2017
SAVANNA, GA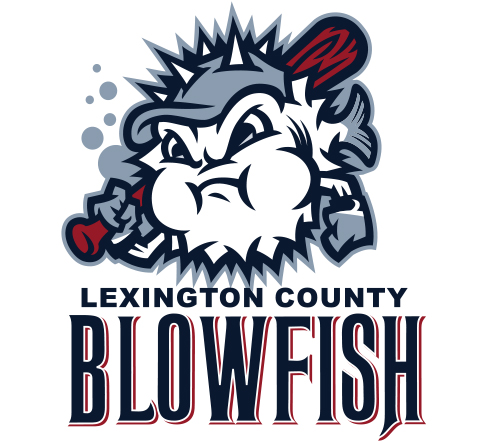 Wednesday night was a scheduled off night for the Blowfish but after a rainout in Savannah on Monday evening, Wednesday became the makeup date for the Bananas and Blowfish.
After a 7-4 win Tuesday evening for Lexington County over Savannah, the Blowfish took aim at three straight wins. What they got instead was a 10-0 shutout loss at Grayson Stadium.
Savannah got going in the third inning. After a walk and a single, LJ Talley (Georgia) rocked a two run triple down the right field line that gave Savannah a 2-0 lead. The Bananas added a run in the inning on a Garrett Nelson (Long Beach State) SAC fly.
The Bananas kept the scoring rolling in the fourth adding a run in the inning that was followed up by a huge fifth.
Savannah sent 10 Bananas to the plate exploding for a five run bottom of the fifth. Christian Hollie 's (UT-Arlington) bases clearing triple inning highlighted the inning. After the big inning, the Bananas led 9-0.
The Blowfish were left scratching their heads all evening long. Kyle Richardson (Texas A&M) went seven strong only allowing four hits and striking out 8.
Savannah added an extra run in the eighth inning and cruised to a 10-0 shutout win. It is only the second time that Lexington County has been shutout this season and they will set their sights on Gastonia Thursday night at Lexington County Baseball Stadium.
Coverage on z93.1 FM The Lake will begin at 6:45 and first pitch from the Lex is slated for 7:05.
The Coastal Plain League is the nation's premier summer collegiate baseball league. Celebrating its 22nd season in 2018, the CPL features 16 teams playing in Georgia, North Carolina, South Carolina and Virginia. The CPL has had over 1,450 alumni drafted and 111 of those – including 2011 AL MVP and Cy Young winner Justin Verlander – make their Major League debut; while another notable alum – Russell Wilson – won Super Bowl XLVIII. For more information on the Coastal Plain League, please visit the league website at www.coastalplain.com and follow us via Facebook, Twitter, Instagram and Snapchat @CPLBaseball..
Contact:
Brian Principe
Phone:
803-254-3474