Updated August 03 2017
SAVANNAH, G.A.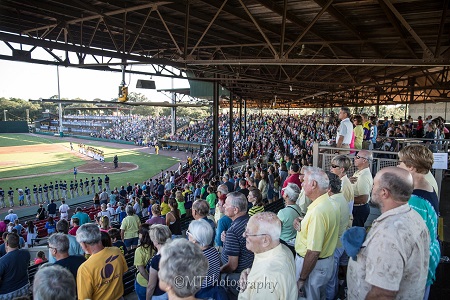 On Wednesday, August 3rd the Savannah Bananas broke the Coastal Plain League's single-season attendance record of 91,044. The record was set last year by the Bananas in their inaugural season.
Leading up to this, the Bananas had drawn 87,600 fans, averaging 4,171 per night over 21 games.
The night's match up featured two makeup games against the Lexington County Blowfish that were previously sold out. Game one was the continuation game from July 24th, with the Blowfish leading 6-5 in the top of the 3rd. This game welcomed 4,029 fans, marking the 22nd consecutive sellout this season and breaking last year's record. Game two was the makeup game for the June 30th rainout, a game that sold out over two months in advance, brought in 4,116 more fans and set the newest record for 95,745.
"We are truly humbled by the support from the community," said Owner Jesse Cole. "To break the league attendance record in back to back seasons and sell out every single game this year is unbelievable. It's a testament to the fans and we can't thank this community enough for having fun with us every day at the ballpark."
In the team's inaugural season, the Bananas beat the previous attendance record set in 2014 by the Peninsula Pilots of 77,171 fans. The Bananas beat this number last year with just 22 home games compared to the Pilots' 35 home games.
For the 2017 season, the Bananas have averaged 4,171 fans a game, 512 more per game than last year's average of 3,659. The second-highest average game attendance in the CPL is 1,850 fans per game by the Gastonia Grizzlies.
In addition to breaking the league attendance record, the Bananas have hit a regular season sellout streak of 29 total, beginning on July 21st, 2016.
Currently the Bananas are in the running to host a playoff game at Grayson Stadium on August 8th, 10th, 11th, and/or, 12th. Presale playoff tickets for these potential dates are on sale now at www.thesavannahbananas.com. Fans can also purchase tickets by calling 912-712-2482.
The Coastal Plain League is the nation's premier summer collegiate baseball league. Celebrating its 22nd season in 2018, the CPL features 16 teams playing in Georgia, North Carolina, South Carolina and Virginia. The CPL has had over 1,450 alumni drafted and 111 of those – including 2011 AL MVP and Cy Young winner Justin Verlander – make their Major League debut; while another notable alum – Russell Wilson – won Super Bowl XLVIII. For more information on the Coastal Plain League, please visit the league website at www.coastalplain.com and follow us via Facebook, Twitter, Instagram and Snapchat @CPLBaseball..
Contact:
Liz Bushaw
Phone:
912-712-2482