Updated November 06 2017
SAVANNAH, G.A.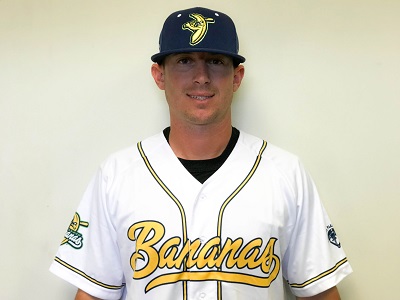 After an extensive, nationwide search, the Savannah Bananas are excited to announce Tyler Gillum will be serving as their head coach for the 2018 season. Gillum is currently an assistant coach at South Mountain Community College in Phoenix, AZ.
The Bananas began their search for a new coach in September. The team asked for video submissions, hoping to find candidates who could lead the team. Gillum's energy and experience stood out in his video and throughout the interview process. He was also recommended by former head coach, Sean West.
"I am extremely humbled and excited to be the next head coach for the Savannah Bananas. I want to thank Jesse, Emily and the organization for the opportunity. I also want to thank Sean West for everything he's done in the process," said Gillum.
He serves as the infield and third base coach at SMCC, where he also assists with hitting, strength training, and recruiting. In addition, he is the school's Health and Wellness program coordinator. He has been with the school for seven years.
Gillum graduated from Latta High School in Oklahoma in 2005, where he was a member of 4 state championship teams. He then spent two years at Seminole State Junior College. He finished his playing career at East Central University earning a degree in Kinesiology (Teacher's Certification) and a Master's in Education with an emphasis in Sports Administration. He began his coaching career at his alma mater as the recruiting coordinator, hitting, and infield coach.
This will be Gillum's first summer with the Coastal Plain League. He began working in summer collegiate baseball in 2012 with the Shore Eagles of the Myrtle Beach Summer Collegiate Baseball League. He spent three summers as an assistant coach for the Brazos Valley Bombers in the Texas Collegiate League. During this time, the Bombers won three TCL titles and had an overall record of 138-31.
He spent this past summer with the prestigious Cape Cod League, as an assistant coach to the Yarmouth-Dennis Red Sox. He is excited to move on to the Coastal Plain League and the Bananas organization.
"Over the last two years, the Bananas have created one of the best spots to develop and play summer collegiate baseball. From a coach and players perspective, when you take a look at the 4000+ fans, the minor league stadium, the awesome city of Savannah, the competition in the Coastal Plain League, the beach, and great host families I find it hard to find a better place to play in the summer."
"A big reason why I accepted this job was because of the culture in the organization. The Bananas have created an environment that gives fans, staff and players memories that last a lifetime and I can't wait to be a part of that," said Gillum.
Aside from his impressive coaching resume, Gillum was chosen for his enthusiasm and eagerness to fulfill the team's mission statement of "Fans First, Entertain Always."
""I've met very few people like Tyler," said Bananas Owner Jesse Cole. "As a coach, he brings amazing energy and knowledge of the game. But it's his hunger to develop not only his players but himself that's really special. His appetite to learn and to grow is second to none. Savannah is in for something really special with Tyler. We can't wait to have him lead the Bananas."
He is excited to begin recruiting and building a winning team. "Our team is going to be built around high energy, tough, competitive, talented players that love to come to the ball park. We want to put together a team that the fans of Savannah would love to come watch every night."
Gillum will be on Facebook Live to answer fans' questions on Tuesday, November 7 at 3:00 EST.
The Coastal Plain League is the nation's premier summer collegiate baseball league. Celebrating its 22nd season in 2018, the CPL features 16 teams playing in Georgia, North Carolina, South Carolina and Virginia. The CPL has had over 1,450 alumni drafted and 111 of those – including 2011 AL MVP and Cy Young winner Justin Verlander – make their Major League debut; while another notable alum – Russell Wilson – won Super Bowl XLVIII. For more information on the Coastal Plain League, please visit the league website at www.coastalplain.com and follow us via Facebook, Twitter, Instagram and Snapchat @CPLBaseball..
Contact:
Liz Bushaw
Phone:
912-712-2482