Updated July 22 2017
FAYETTEVILLE, N.C.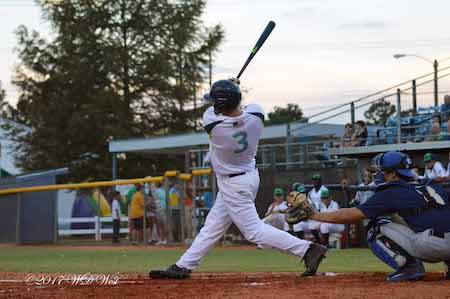 The Fayetteville SwampDogs (27-16) continued their winning ways against the Florence RedWolves (21-20) with their first walk-off win of the season by a score of 4-3.
The SwampDogs would take a 2-0 lead in the third inning on a pair of RBI base hits from Matt Morrow (Wright State) to score Jameel Edney (Bethune-Cookman) all the way from 1st base followed by a Trent Franson (TCU) single that plated Morrow.
After Florence tied the game in the top of the 4th inning with a pair of solo home runs, the SwampDogs regained control of the game in the bottom half of the inning thanks to an RBI single up the middle from Jay Robinson (New Orleans) to score Mike Farnell from 3rd base and put the SwampDogs ahead for good at 3-2.
The RedWolves would tie things up in the 8th inning on a groundout from Logan McRae (College of Charleston) that plated Clay Casey (Delta State) from 3rd base to knot it at 3.
Jonathan Allen (San Francisco) would play the role of hero for the Dogs driving in Morrow on a base hit to right field in the bottom of the 9th to give Fayetteville their first walk-off win of the year by a score of 4-3.
Zach Neff (Austin Peay) would take the win following 0.1 innings pitched to improve to (6-0), while Blake Whiting (Florence-Darlington Tech) would be saddled with the loss dropping the reliever to (0-1).
The SwampDogs return to the Swamp on Wednesday, July 26 for No More Hurricane Matthew Night against the Wilmington Sharks. The gates will open at 6 with first pitch at 7:05. For all your SwampDogs news and updates please visit GoSwampDogs.com and follow us on Twitter @GoSwampDogs. The SwampDogs season is presented by Fayetteville Kia.
The Coastal Plain League is the nation's premier summer collegiate baseball league. Celebrating its 22nd season in 2018, the CPL features 16 teams playing in Georgia, North Carolina, South Carolina and Virginia. The CPL has had over 1,450 alumni drafted and 111 of those – including 2011 AL MVP and Cy Young winner Justin Verlander – make their Major League debut; while another notable alum – Russell Wilson – won Super Bowl XLVIII. For more information on the Coastal Plain League, please visit the league website at www.coastalplain.com and follow us via Facebook, Twitter, Instagram and Snapchat @CPLBaseball..
Contact:
Leo Blavin
Phone:
(910)-426-5900