Updated July 23 2012
National CPL All-Stars Roll Past American CPL All-Stars, 4-1
WILSON, N.C.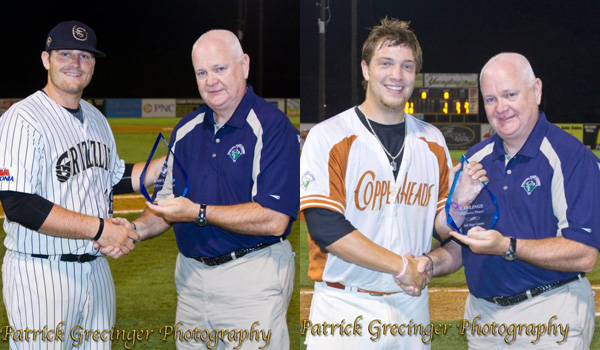 The National CPL All-Stars took an early 2-0 lead in the bottom of the second inning and never looked back, as they rolled to a 4-1 victory over the American CPL All-Stars in the 2012 Coastal Plain League All-Star Game Monday night.
After one complete inning, the game was halted due to severe weather in the area. After a 2-hour-and-46-minute rain delay, and with time restrictions due to team travel for regular season games the next day, the game was shortened to five complete innings.
Martinsville's John Faircloth (Charleston Southern) led off the bottom of the second with a walk. One out later, he stole second, and then advanced to third on a single to left by Thomasville's Kyle Brandenburg (High Point). Brandenburg then stole second, and a throwing error by Gastonia catcher David Reid-Foley (Mercer) allowed Faircloth to score, while a fielding error by Fayetteville center fielder Mike Tauchman (Bradley) saw Brandenburg reach third. One out later, Columbia's Joshua Miller (USC-Aiken) singled down the right-field line to score Brandenburg and make it 2-0 National All-Stars.
In the bottom of the third and Petersburg's Ryan Parker (Seton Hall) on first, Gastonia's Tyler White (Western Carolina) connected on an RBI-double to left-center, scoring Parker. Next, Edenton's Spencer Branigan (Pennsylvania) singled to center, moving White over to third. Then, Asheboro's Hunter Ridge (UNC Wilmington) hit an RBI-single to right field, scoring White to give the National All-Stars a 4-0 lead.
The American All-Star squad got on the board in the top of the fifth inning. Fayetteville's Sal Giardina (Lynn) singled through the right side with one out and then advanced to second on a walk by Florence's J.D. Crowe (Auburn). One out later, Wilmington's Alex Freedman (Lynn) singled to center, advancing Crowe to third and scoring Giardina to make it 4-1.
Petersburg left-hander Alex Caravella (Pittsburgh) earned the win after going one inning of work and striking out two of the three batters he faced. Meanwhile, Forest City righty Ryan Tezak (West Virginia) was tagged with the loss. In one inning of work, he surrendered two runs - one earned - on a pair of hits, walked one and struck out two.
After the game, the CPL honored the 2012 Rawlings Coastal Plain League Offensive and Defensive Players of the All-Star Game as voted upon by the media in attendance. White (pictured left with CPL President and Commissioner Pete Bock, courtesy of Pat Grecinger) was selected as the Offensive Player of the All-Star Game after going 1-for-1 with a double, an RBI and a run scored. Meanwhile, Ridge (pictured right, courtesy of Pat Grecinger) was named the Defensive Player of the All-Star Game after making three putouts in left, including a spectacular diving grab in the third inning.
Immediately following the award ceremony, the remaining All-Star pitchers were able to throw in front of the scouts - and fans - in attendance so as to ensure all CPL All-Stars were recognized and scouted.
Sunday night, Ridge defeated Wilmington's Aaron Preston (Presbyterian) in the 2012 CPL All-Star Home Run Derby. Ridge connected 11 homers for 33 points to be crowned the champion.
The Coastal Plain League is the nation's hottest summer collegiate baseball league. Celebrating its 16th season in 2012, the CPL features 14 teams playing in North Carolina, South Carolina and Virginia. The CPL gives college players the chance to refine their skills with the use of wooden bats. Players are housed with local host families for the summer and past experiences have been very positive for both players and hosts. Furthermore, the CPL has had over 1,000 alumni drafted and 53 alums – including 2011 AL MVP and Cy Young winner Justin Verlander – make their Major League debut thus far. For more information on the Coastal Plain League, please visit the league website at www.coastalplain.com, and be sure to friend us on Facebook (at www.facebook.com/coastalplainleague) and follow us via Twitter (as cpleague).
Contact:
Justin Sellers
Phone:
(919) 852-1960