Updated July 12 2011
2011 National CPL All-Star Team Announced
HOLLY SPRINGS, N.C.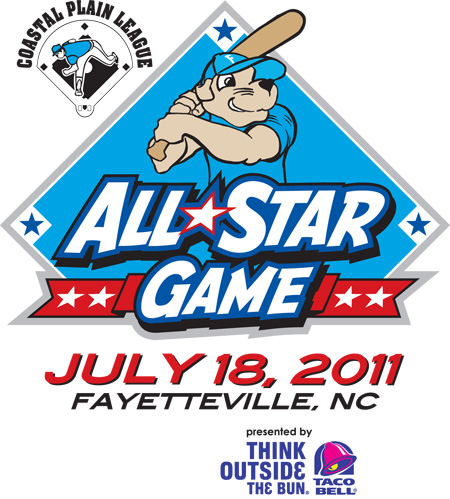 The Coastal Plain League announced today the roster for the 2011 National CPL All-Star Team. The Coastal Plain League's 13th annual All-Star Game will be played at J.P. Riddle Stadium in Fayetteville, N.C. on Monday, July 18.
The National Team features players from 10 CPL clubs with the players being selected by head coaches and media representatives from all clubs. The National roster is comprised of 27 players, highlighted by six Player of the Week selections: starting first basemen Chase McDonald (Week3), starting second baseman Anthony Nunziato (Week 3), second baseman Joe Wendle (Week 4), starting outfielder Ryan Mathews (Week 4), pitcher Shawn Armstrong (Week 3), and pitcher Corey Deighan (Week 1.)
Furthermore, Edenton's Joshua Branstetter (Delta State) was also selected as an All-Star for the National team, but will not be able to attend due to injury and has been replaced on the roster.
The Fayetteville SwampDogs, in conjunction with the Coastal Plain League, will host the All-Star Game and festivities beginning on Sunday, July 17 and running through Monday, July 18. Game time is set for 7:05 p.m. on July 18.
Below is the complete roster for the National CPL All-Star Team (starters are shown with an asterisk (*)).

Pos. Name Team Ht. Wt. Yr. School
C Collin Slaybaugh* Martinsville 6-1 180 Fr. Washington State
C Joshua Miller Florence 5-9 185 So. USC Aiken
1B Chase McDonald* Morehead City 6-4 260 Fr. East Carolina
1B Travis Benn Florence 6-3 205 So. Mercer
2B Anthony Nunziato* Martinsville 6-1 190 Jr. Lander
2B Joe Wendle Edenton 6-1 190 Jr. West Chester
3B John Faircloth* Martinsville 6-1 180 So. Charleston Southern
3B Chad Pinder Peninsula 6-2 175 Fr. Virginia Tech
3B Chas Crane Peninsula 6-0 205 Jr. Winthrop
SS Tyler Sciacca* Outer Banks 5-10 170 Jr. Villanova
SS Stephen Carmon Thomasville 5-7 155 Jr. USC Aiken
OF Ryan Mathews* Wilson 6-3 192 RS-Jr. NC State
OF Hunter Ridge* Asheboro 6-1 190 So. UNC Wilmington
OF Ryan Brenner* Edenton 6-1 170 Jr. Miami of Ohio
OF Eli Hynes Martinsville 6-0 205 Jr. Memphis
OF Adam Engel Florence 6-1 190 Fr. Louisville
OF Terrell Joyce Peninsula 6-3 225 Fr. Flordia State College
OF Brian Blasik Edenton 5-11 175 Jr. Dayton
RHP Jordan Jankowski* Thomasville 6-1 210 Jr. Catawba College
RHP Shawn Armstrong Morehead City 6-2 215 So. East Carolina
RHP Alex Borgan Petersburg 6-1 195 So. Ohio Dominican
RHP Corey Deighan Asheboro 6-4 220 Jr. Charleston Southern
LHP Charlie McCready Asheboro 5-10 175 Jr. Charleston Southern
RHP Conner Sinclair Outer Banks 6-1 200 Jr. Lipscomb
RHP Brooks Fiala Edenton 6-2 190 So. Miami of Ohio
RHP Jordan Egan Edenton 6-3 200 So. Norfolk State
RHP Tony Wieber Wilson 6-0 200 So. Michigan State
RHP Joshua Branstetter# Edenton 5-11 185 So. Delta State
# - Injured but honored as an All-Star
*- All-Star starter
The Coastal Plain League is the nation's hottest summer collegiate baseball league. Celebrating its 15th season in 2011, the CPL features 15 teams playing in North Carolina, South Carolina and Virginia. The CPL gives college players the chance to refine their skills with the use of wooden bats. Players are housed with local host families for the summer and past experiences have been very positive for both players and hosts. Furthermore, the CPL has had over 930 alumni drafted and 44 alums make their Major League debut thus far. For more information on the Coastal Plain League, please visit the league website at www.coastalplain.com, and be sure to friend us on Facebook (at www.facebook.com/coastalplainleague) and follow us via Twitter (as cpleague).
Contact:
Justin Sellers
Phone:
(919) 852-1960