Updated July 14 2011
2011 CPL All-Star Home Run Derby Participants Named
HOLLY SPRINGS, N.C.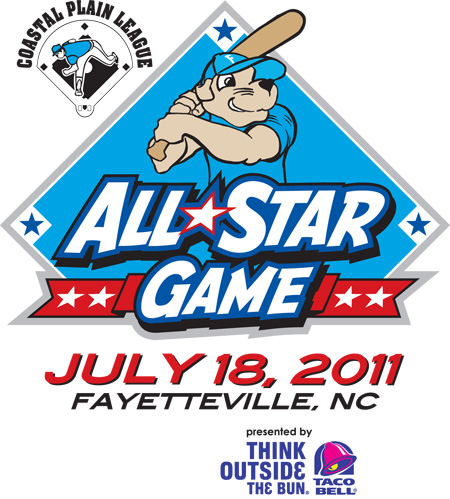 2011 CPL All-Star Home Run Derby Rules
- Three Rounds, Eight (8) outs per round (round 1&2) / Ten (10) outs (round 3)
- Eight (8) Hitters per All-Star Team
- Either a Home Run or it's an Out
- Can use aluminum bats for up to two (2) outs per round
- Home runs with wood = 3 points
- Home runs with aluminum = 1 point
- Points from every round rollover to the next round.
Round 1: Eight (8) hitters from the National and Eight (8) from the American
- Top three (3) hitters from both clubs advance to next round
Round 2: Three (3) hitters from the National and Three (3) from the American
- Top two (2) hitters, regardless of All-Star team, advance to final round
Round 3: Top two hitters in derby thus far
- Hitter with most total points after round three (points from rounds 1-3 combined) is crowned Champion

National All-Star Participants:
1) Chase McDonald (Morehead City Marlins and East Carolina)
2) Terrell Joyce (Peninsula Pilots and Florida State College)
3) Ryan Mathews (Wilson Tobs and NC State)
4) Hunter Ridge (Asheboro Copperheads and UNC Wilmington)
5) Eli Hynes (Martinsville Mustangs and Memphis)
6) Travis Benn (Florence RedWolves and Mercer)
7) Anthony Nunziato (Martinsville Mustangs and Lander)
8) Chad Pinder (Peninsula Pilots and Virginia Tech)
American All-Star Participants:
1) Trey Holmes (Asheboro Copperheads and Appalachian State)
2) Eric Grabe (Fayetteville SwampDogs and Tampa)
3) Jacob Rogers (Thomasville HiToms and Mount Olive)
4) Zach Smith (Columbia Blowfish and Erskine)
5) Daniel Aldrich (Wilmington Sharks and College of Charleston)
6) Tony Micklon (Florence RedWolves and Presbyterian College)
7) Chad Carman (Outer Banks Daredevils and Oklahoma City)
8) Cody Davis (Fayetteville SwampDogs and Tampa)
The Coastal Plain League is the nation's hottest summer collegiate baseball league. Celebrating its 15th season in 2011, the CPL features 15 teams playing in North Carolina, South Carolina and Virginia. The CPL gives college players the chance to refine their skills with the use of wooden bats. Players are housed with local host families for the summer and past experiences have been very positive for both players and hosts. Furthermore, the CPL has had over 930 alumni drafted and 44 alums make their Major League debut thus far. For more information on the Coastal Plain League, please visit the league website at www.coastalplain.com, and be sure to friend us on Facebook (at www.facebook.com/coastalplainleague) and follow us via Twitter (as cpleague).
Contact:
Justin Sellers
Phone:
(919) 852-1960