Updated July 13 2011
2011 American CPL All-Star Team Announced
HOLLY SPRINGS, N.C.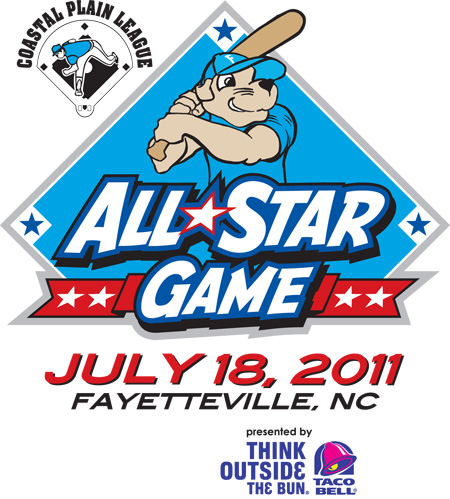 The Coastal Plain League announced today the roster for the 2011 American CPL All-Star Team. The Coastal Plain League's 13th annual All-Star Game will be played at J.P. Riddle Stadium in Fayetteville, N.C. on Monday, July 18.
The American Team features players from 12 CPL clubs with the players being selected by head coaches and media representatives from all clubs. The American roster is comprised of 27 players, highlighted by four Player of the Week selections: outfielder Zack Smith (Week1), starting pitcher Seth Cutler-Voltz (Week 1), pitcher Cody Davis (Week 5), and pitcher Michael Anarumo (Week 5.)
Furthermore, Asheboro's Trey Holmes (Appalachian State) and Lucas Witt (Kentucky), Forest City's Jake Watson (South Carolina), and Wilson's Ryan Daughtry (Barton College) were also selected as All-Stars for the National team, but will not be able to attend due to injury and have been replaced on the roster.
The Fayetteville SwampDogs, in conjunction with the Coastal Plain League, will host the All-Star Game and festivities beginning on Sunday, July 17 and running through Monday, July 18. Game time is set for 7:05 p.m. on July 18.
Below is the complete roster for the American CPL All-Star Team (starters are shown with an asterisk (*)).

Pos. Name Team Ht. Wt. Yr. School
C Joe Jackson* Columbia 6-1 180 Fr. The Citadel
C Dylan Nasiatka Gastonia 5-10 195 Jr. Hofstra
C Chad Carman Outer Banks 5-10 185 Jr. Oklahoma City
1B Jake Cave* Peninsula 6-1 190 HS-Sr. LSU
1B Derrick Hopkins Martinsville 6-3 225 RS-Jr. Southern
1B Trey Holmes# Asheboro 6-1 210 Jr. Appalachian State
2B Eric Grabe* Fayetteville 6-0 190 Jr. Tampa
2B Chase Vergason Columbia 6-0 170 So. South Carolina
2B Jake Watson# Forest City 5-10 175 Fr. South Carolina
3B Jake Mayers* Wilmington 6-2 210 So. Richmond
3B Billy Urban Fayetteville 6-0 185 So. St. Bonaventure

SS Joe Sclafani* Morehead City 5-11 185 Jr. Dartmouth
SS Reed Harper Forest City 6-2 195 So. Austin Peay
SS Justyn Carter Wilmington 6-2 163 Jr. St. Peter's
OF Patrick Koontz* Thomasville 6-0 200 Jr. UNC Asheville
OF Axel Johnson* Forest City 6-3 205 Fr. TCU
OF Tony Micklon* Florence 6-1 185 Jr. Presbyterian College
OF Zack Smith Columbia 6-1 205 Fr. Erskine College
OF Daniel Aldrich Wilmington 6-2 210 RS-Fr. College of Charleston
OF Jacob Rogers Thomasville 6-4 210 Jr. Mount Olive
OF Lucas Witt# Asheboro 6-1 190 Fr. Kentucky
OF Ryan Daughtry# Wilson 6-0 190 Jr. Barton College
RHP Seth Cutler-Voltz* Forest City 6-0 185 Jr. Virginia Commonwealth
RHP Cody Davis Fayetteville 5-10 170 Jr. Tampa
RHP Travis Tingle Thomasville 6-5 205 Jr. Louisville
LHP Michael Anarumo Fayetteville 6-5 205 Jr. LeMoyne College
RHP Derek Brooks Fayetteville 6-1 195 Jr. Emporia State
RHP Cory Kent Fayetteville 5-11 200 Jr. Lehigh
RHP Chad O'Connor Peninsula 6-2 195 RS-So. Virginia
RHP Derek Epps Gastonia 6-4 195 Jr. NW Oklahoma State
RHP Adam Izokovic Forest City 6-5 180 Jr. Gardner-Webb
# - Injured but honored as an All-Star
*- All-Star starter
The Coastal Plain League is the nation's hottest summer collegiate baseball league. Celebrating its 15th season in 2011, the CPL features 15 teams playing in North Carolina, South Carolina and Virginia. The CPL gives college players the chance to refine their skills with the use of wooden bats. Players are housed with local host families for the summer and past experiences have been very positive for both players and hosts. Furthermore, the CPL has had over 930 alumni drafted and 44 alums make their Major League debut thus far. For more information on the Coastal Plain League, please visit the league website at www.coastalplain.com, and be sure to friend us on Facebook (at www.facebook.com/coastalplainleague) and follow us via Twitter (as cpleague).
Contact:
Justin Sellers
Phone:
(919) 852-1960