Updated July 14 2010
2010 National CPL All-Star Team Announced
HOLLY SPRINGS, N.C.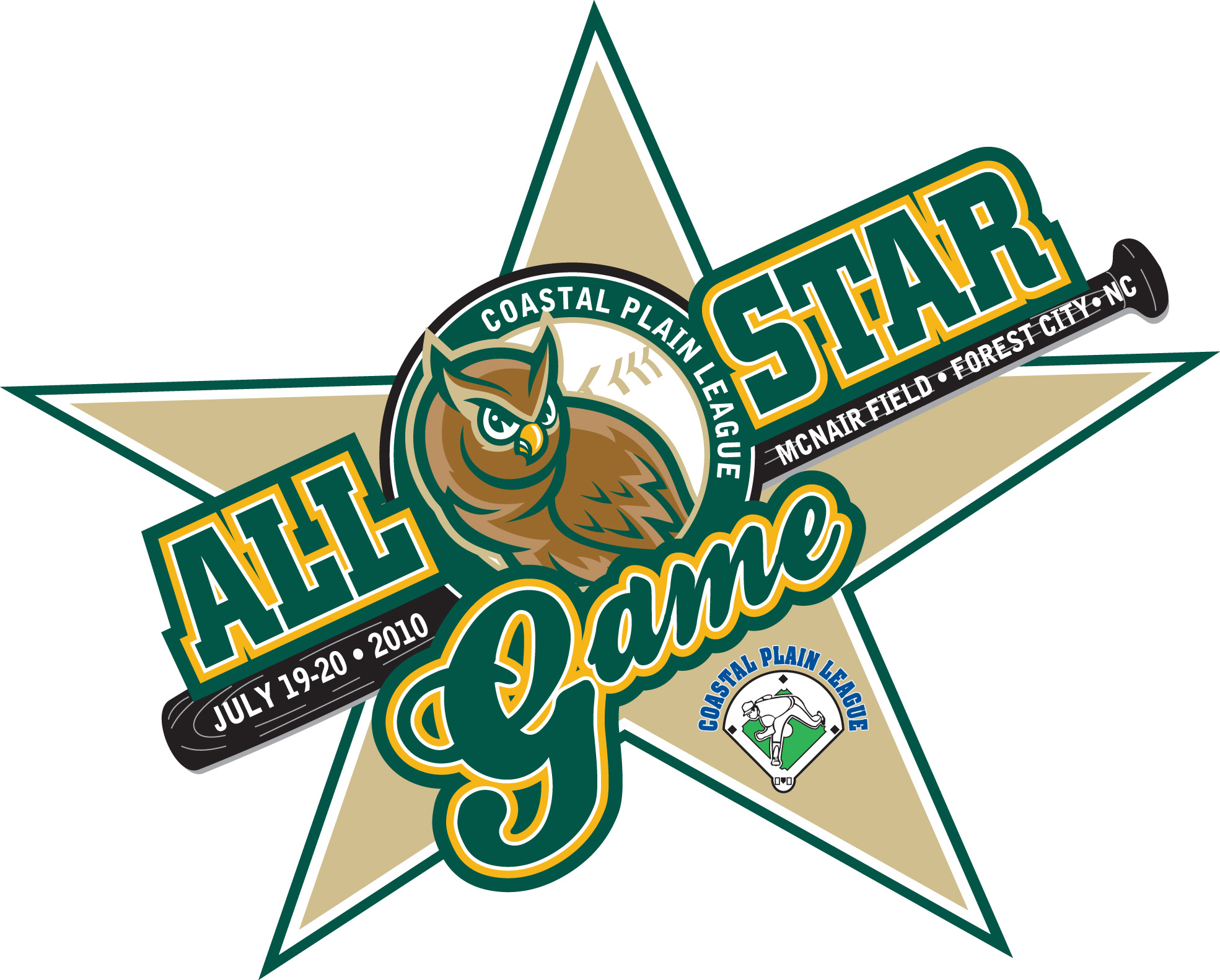 The Coastal Plain League announced today the roster for the 2010 National CPL All-Star Team. The Coastal Plain League's 12th annual All-Star Game will be played at McNair Field in Forest City, N.C. on Tuesday, July 20th.
The National Team features players from 13 of the 15 CPL clubs with the players being selected by head coaches and media representatives from all clubs. The National roster is comprised of 27 players, highlighted by six Player of the Week selections: third basemen Chas Crane (Week 4) and pitchers Brad McAllister (Week 1), Mark Montgomery (Week 2), Coty Saranthus (Week 3), Ben Grisz (Week 4), and Robert Jeroszko (Weeks 5 & 6).
Furthermore, Outer Banks' Jake Williams was also selected as an All-Star for the American team, but will not be able to attend due to injury and has been replaced on the roster.
The Forest City Owls, in conjunction with the Coastal Plain League, will host the All-Star Game and festivities
beginning on Monday, July 19th and running through Tuesday, July 20th. Game time is set for 7:05 p.m. on July 20th.
Below is the complete roster for the American CPL All-Star Team (starters are shown with an asterisk (*)).
Pos. Name Team Ht. Wt. Yr. School Hometown
C Danny Canela* Forest City 6-0 230 Fr. N.C. State Mimai, Fla.
C Ronnie Freeman Florence 6-1 190 Fr. Kennesaw State Lawrenceville, Ga.
1B David Chester* Gastonia 6-5 250 So. Pittsburgh Collinsville, Okla.
1B Corey LeVier Fayetteville 6-4 210 So. San Diego San Dimas, Calif.
2B Neiko Johnson* Edenton 5-9 165 RS-Jr. Kentucky Stone Mountain, Ga.
2B Marquis Riley Asheboro 5-11 195 So. North Carolina A&T Hillsborough, N.C.
3B Chas Crane* Peninsula 6-0 200 So. Winthrop Bridgewater, N.J.
3B Eric Grabe Fayetteville 6-0 182 So. Tampa Ocala, Fla.
SS A.J. Rusbarsky* Edenton 5-8 170 Jr. Seton Hall Freehold, N.J.
SS Jacob Wilson Asheboro 6-0 200 So. Memphis Memphis, Tenn.
SS Reid Harper Forest City 6-2 185 Fr. Austin Peay Clarksville, Tenn.
OF Will Skinner* Forest City 5-11 206 Jr. Middle Tennessee St. Murfreesboro, Tenn.
OF Nick Orvin* Columbia 5-11 175 So. The Citadel Moncks Corner, S.C.
OF Mac Doyle* Florence 6-1 210 So. Wofford Conway, S.C.
OF Billy Burns Edenton 5-9 170 So. Mercer Marietta, Ga.
OF David Coleman Peninsula 5-11 205 Jr. Virginia Richmond, Va.
OF Konstantine Diamaduros Forest City 6-1 195 So. Wofford Spartanburg, S.C.
OF Keith Morrisroe Wilson 5-11 180 So. Concord Chantilly, Va.
OF Jake Williams# Outer Banks 6-1 195 Jr. South Carolina Greer, S.C.
RHP Brad McAllister* Morehead City 6-3 190 So. Barry St. Petersburg, Fla.
RHP Ben Grisz Thomasville 6-1 220 So. Duke Dallas, Texas
RHP Nate Hyatt Forest City 5-10 180 Fr. Appalachian State Brevard, N.C.
RHP Jordan Jankowski Thomasville 6-1 200 So. Miami of Ohio Pittsburgh, Pa.
RHP Chase Boruff Forest City 6-0 195 So. Carson-Newman Knoxville, Tenn.
RHP Coty Saranthus Edenton 5-11 165 Jr. Delta State Terry, Miss.
RHP Coby Cowgill Peninsula 6-1 185 Fr. VMI Norfolk, Va.
RHP Robert Jeroszko Gastonia 6-3 200 Jr. College of Charleston Charleston, S.C.
RHP Mark Montgomery Edenton 5-11 195 So. Longwood Williamsburg, Va.
# - Injured but honored as an All-Star
The Coastal Plain League is the nation's hottest summer collegiate baseball league. Celebrating its 14th season, the Coastal Plain League features 15 teams playing in North Carolina, South Carolina, and Virginia. The CPL gives college players the chance to refine their skills with the use of wooden bats. Players are housed with local host families for the summer and past experiences have been very positive for both players and hosts. Furthermore, the CPL has had over 800 alumni drafted and 36 alums make their Major League debut thus far. For more information on the Coastal Plain League, please visit the league Web site at http://www.coastalplain.com.
Contact:
Justin Sellers
Phone:
(919) 852-1960