Updated July 13 2010
2010 American CPL All-Star Team Announced
HOLLY SPRINGS, N.C.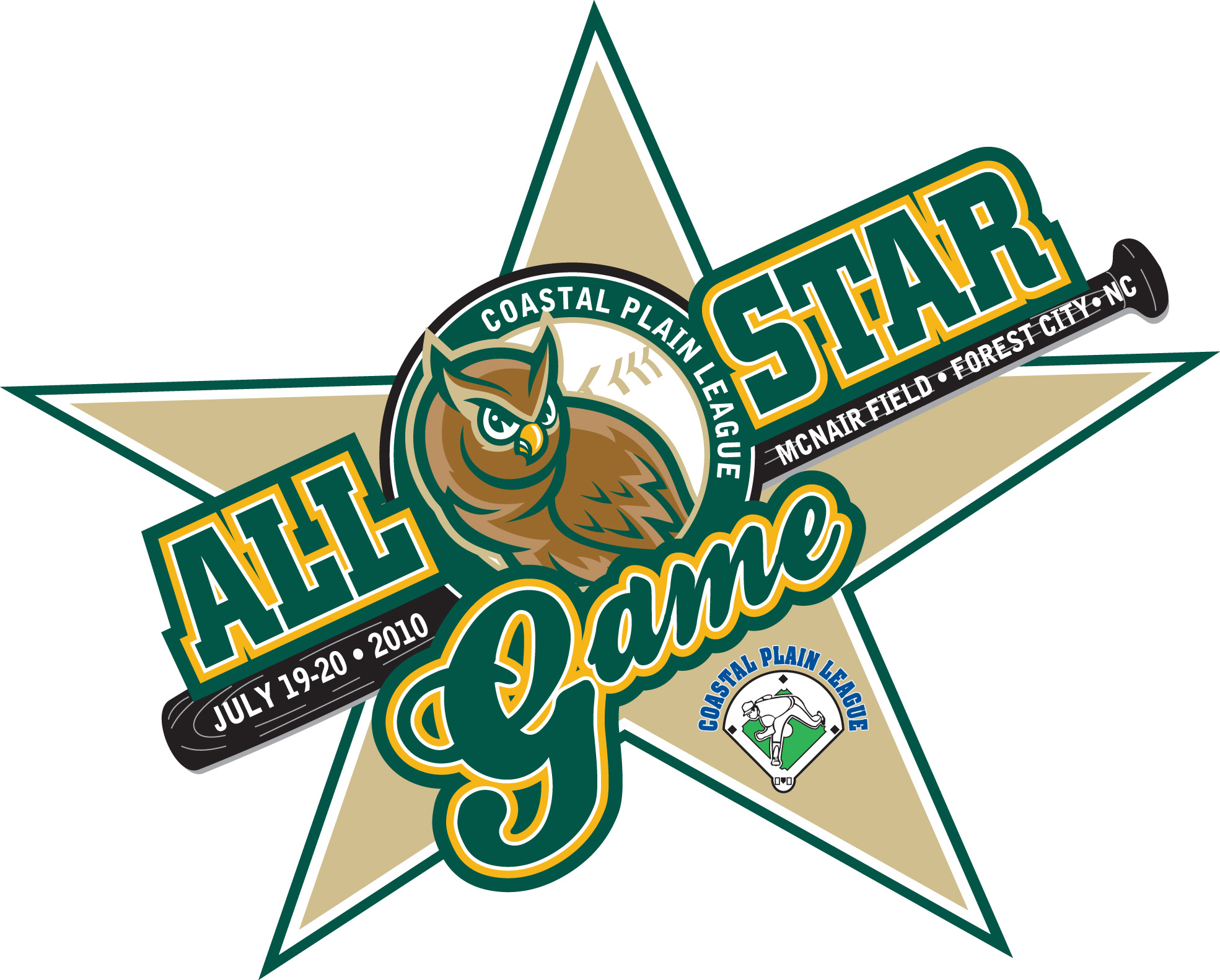 The Coastal Plain League announced today the roster for the 2010 American CPL All-Star Team. The Coastal Plain League's 12th annual All-Star Game will be played at McNair Field in Forest City, N.C. on Tuesday, July 20th.
The American Team features players from all 15 CPL clubs with the players being selected by head coaches and media representatives from all clubs. The American roster is comprised of 27 players, highlighted by two Player of the Week selections: second basemen Justyn Carter (Week 1) and starting pitcher Jonathan Cornelius (Week 1).
Furthermore, Martinsville's Taylor Oldham was also selected as an All-Star for the American team, but will not be able to attend due to injury and has been replaced on the roster.
The Forest City Owls, in conjunction with the Coastal Plain League, will host the All-Star Game and festivities
beginning on Monday, July 19th and running through Tuesday, July 20th. Game time is set for 7:05 p.m. on July 20th.
Below is the complete roster for the American CPL All-Star Team (starters are shown with an asterisk (*)).
Pos. Name Team Ht. Wt. Yr. School Hometown
C Matt Zeblo* Wilson 5-11 205 Jr. Belmont Wake Forest, N.C.
C Jake Lowery Petersburg 6-0 198 So. James Madison Midlothian, Va.
1B Jake Magner* Edenton 6-3 215 Jr. North Dakota Grand Rapids, Minn.
1B Trey Hernandez Florence 6-1 245 Jr. Texas A&M - Corpus Christi Robstown, Texas
2B Chase Vergason* Columbia 6-0 170 Fr. Florida Atlantic Longwood, Fla.
2B Justyn Carter Morehead City 6-2 168 So. Saint Peter's Mount Laurel, N.J.
2B Seth Boyd Gastonia 6-1 175 Jr. Wagner Perth Amboy, N.J.
3B Stephen Marino* Morehead City 6-1 200 Jr. Stony Brook Lake Grove, N.Y.
3B Matthew Black Martinsville 6-1 205 So. Mercer Winder, Ga.
SS Stephen Carmon* Florence 5-7 145 So. USC-Aiken Camden, S.C.
SS Logan Robbins Peninsula 6-0 185 So. Western Kentucky Owensboro, Ky.
SS Taylor Oldham# Martinsville 6-1 198 So. Covenant Orlando, Fla.
Pos. Name Team Ht. Wt. Yr. School Hometown
OF Jay Cannon* Fayetteville 6-0 180 Fr. Brunswick C.C. Angier, N.C.
OF Kevin Deese* Asheboro 6-4 215 Jr. West Alabama Fosters, Ala.
OF Brian Billigen* Edenton 6-0 175 So. Cornell Carnegie, Pa.
OF Branfy Arias Columbia 5-10 188 So. Tusculum Santo Domingo, D.R.
OF Ryan Daughtry Wilson 6-0 190 So. Barton College Princeton, N.C.
OF Tarran Senay Forest City 6-1 205 Fr. N.C. State South Park, Pa.
OF Cass Hargis Thomasville 5-9 175 RS-So. Southeastern Louisiana Hammond, La.
LHP Jonathan Cornelius* Martinsville 6-0 203 Jr. Florida Tech Land O'Lakes, Fla.
RHP Jerry Battipaglia Outer Banks 6-6 230 So. Villanova Katonah, N.Y.
RHP Patrick Mincey Wilmington 6-3 182 Jr. Francis Marion Hartsville, S.C.
RHP Ben White Morehead City 6-2 180 Jr. Temple Coatesville, Pa.
RHP Carter Capps Fayetteville 6-5 220 Fr. Mount Olive Kinston, N.C.
RHP Patrick Dolan Florence 6-2 185 So. Charleston Southern Summerville, S.C.
LHP Jordan Underwood Gastonia 6-2 190 So. Southeast Missouri St. Edmond, Okla.
RHP Bryant Gaines Wilson 6-6 230 Jr. North Carolina Weddington, N.C.
RHP Corey Deighan Asheboro 6-4 215 So. Charleston Southern Jacksonville, Fla.
# - Injured but honored as an All-Star
The Coastal Plain League is the nation's hottest summer collegiate baseball league. Celebrating its 14th season, the Coastal Plain League features 15 teams playing in North Carolina, South Carolina, and Virginia. The CPL gives college players the chance to refine their skills with the use of wooden bats. Players are housed with local host families for the summer and past experiences have been very positive for both players and hosts. Furthermore, the CPL has had over 800 alumni drafted and 36 alums make their Major League debut thus far. For more information on the Coastal Plain League, please visit the league Web site at http://www.coastalplain.com.
Contact:
Justin Sellers
Phone:
(919) 852-1960