Updated July 14 2009
2009 National CPL All-Star Team Announced
RALEIGH, N.C.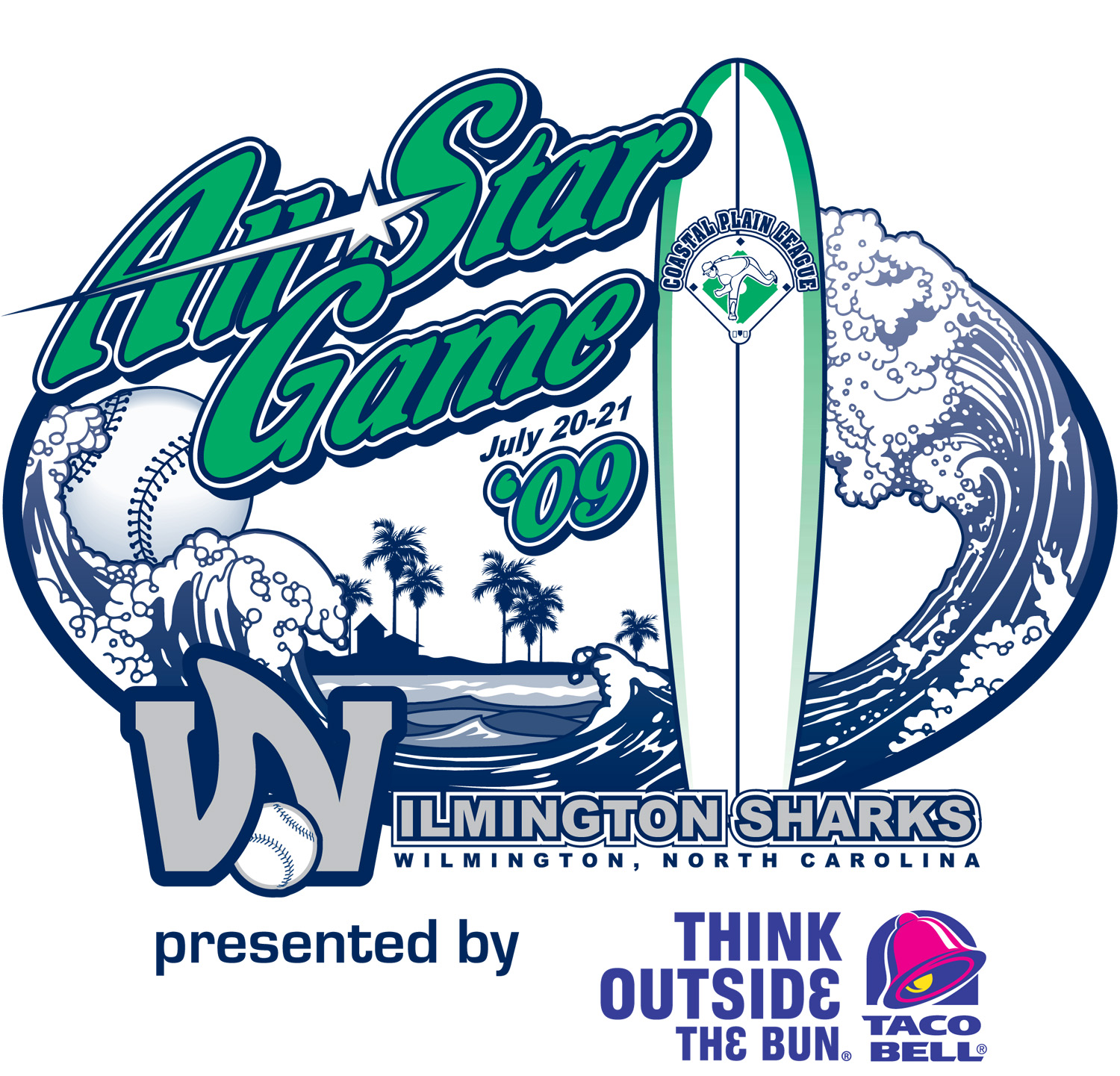 The Coastal Plain League announced today the roster for the 2009 National CPL All-Star Team. The Coastal Plain League's 11th annual All-Star Game will be played at Buck Hardee Field in Wilmington, N.C. on Tuesday, July 21st.
The National Team features players from 11 CPL clubs (Edenton, Florence, Forest City, Gastonia, Martinsville, Outer Banks, Peninsula, Petersburg, Thomasville, Wilmington and Wilson), with the players being selected by head coaches and media representatives from all clubs. The National roster is comprised of 27 players, highlighted by nine Player of the Week selections: first baseman Phil Cerreto (Week 1), shortstops Ronnie Shaban (Week 1) and Tyler Stubblefield (Week 5), outfielders Randolph Oduber (Week 4) and Stewart Ijames (Week 5), as well as
pitchers Trent Howard (Week 1), John Taylor (Week 2), Bryan Breedlove (Week 4) and Trent Rothlin (Week 4 & 6).
Furthermore, Gastonia's Byron McKoy, Edenton's Adam De La Garza, and Petersburg's Jerry Battipaglia were also selected as All-Stars for the National team, but will not be able to attend due to injury and have been replaced on the roster.
The Wilmington Sharks, in conjunction with the Coastal Plain League, will host the All-Star Game and festivities
beginning on Monday, July 20th and running thru Tuesday, July 21st. Game time is set for 7:05 p.m. on July 21st.
Below is the complete roster for the National CPL All-Star Team (starters are shown with an asterisk (*)).
Pos. Name Team Ht. Wt. Yr. School Hometown
C Donnie Corsner* Outer Banks 6-4 185 So. Old Dominion Virginia Beach, Va.
C Tyler Smith Martinsville 6-0 185 So. Mount Olive Kinston, N.C.
1B Phil Cerreto* Martinsville 6-1 200 Jr. Longwood Midlothian, Va.
1B Josh Whitaker Outer Banks 6-2 230 So. Kennesaw State Augusta, Ga.
2B Matthew Hamlet* Gastonia 6-0 170 So. Boston College Chesapeake, Va.
2B Gerard Hall Edenton 5-9 165 Jr. Old Dominion Washington, D.C.
3B Greyson Schram* Gastonia 6-0 190 Jr. Concord Denver, N.C.
3B Derek Spencer Outer Banks 6-1 185 Jr. Bowling Green Oregon, Ohio
SS Ronnie Shaban* Petersburg 6-1 195 Fr. Virginia Tech Moseley, Va.
SS Tyler Stubblefield Outer Banks 5-11 185 Jr. Kennesaw State Woodstock, Ga.
OF Dylan Petrich* Outer Banks 6-3 190 Jr. Texas A&M Wichita, Kan.
OF Bobby Leeper* Wilson 6-1 175 Jr. UNC-Wilmington Raleigh, N.C.
OF Randolph Oduber* Gastonia 6-2 200 Fr. W. Oklahoma State Paradera, Aruba
OF Sam DiMatteo Florence 5-11 175 Jr. California of Pa. Center Township, Pa.
OF Will Lamb Peninsula 6-4 170 Fr. Clemson Seaford, Va.
OF Wade Moore Forest City 6-0 202 Jr. NC State Cleveland, N.C.
OF Billy Barber Peninsula 6-5 230 So. Richmond Fredericksburg, Va.
OF Stewart Ijames Thomasville 6-1 205 RS-So. Louisville Owensboro, Ky.
#OF Byron McKoy Gastonia 5-9 184 So. Temple Charlotte, N.C.
#OF Adam De La Garza Edenton 5-8 180 Jr. Sam Houston State Red Oak, Texas
RHP John Taylor* Florence 5-10 165 Jr. South Carolina Florence, S.C.
RHP Trent Rothlin Martinsville 6-2 190 So. Mississippi Hickory, N.C.
RHP Daniel Cropper Wilmington 6-4 190 RS-So. UNC-Wilmington Snow Hill, Md.
RHP Stephen McCray Florence 6-3 230 Jr. Tennessee Lilburn, Ga.
RHP Jason Sullivan Wilson 6-1 205 Jr. Western Carolina Shelbyville, Ill.
RHP Bryan Breedlove Forest City 6-1 185 Jr. Lynchburg College Suffolk, Va.
LHP Adam Kolarek Outer Banks 6-2 215 So. Maryland Baltimore, Md.
RHP Ben Booker Gastonia 6-2 175 So. East Tennessee State Knoxville, Tenn.
LHP Trent Howard Wilson 6-2 185 Fr. Central Michigan Hammond, Ind.
#RHP Jerry Battipaglia Petersburg 6-6 230 Fr. Villanova Katonah, N.Y.
# - Injured but honored as an All-Star
The Coastal Plain League is the nation's hottest summer collegiate baseball league, now in its 13th season. Featuring 14 teams playing in North Carolina, South Carolina and Virginia, the CPL gives college players the chance to refine their skills with wooden bats during the summer months. Players are housed with local host families for the summer and past experiences have been very positive for both players and hosts. For more information on the Coastal Plain League, please visit the league website at www.coastalplain.com.
Contact:
Justin Sellers
Phone:
(919) 852-1960